How To Recycle Books, In A Way That Doesn't Feel Wrong
It's World Recycle Week, leading up to Earth Day, which is this Friday, April 22nd. We love books, but we wanted to know how they could be recycled, if the time ever came. So in doing our part to stay green this week we compiled information from a few eco-friendly websites that share ways to recycle your pieces of literature.
 Our hope is to share these methods so that even after this week we all keep doing our part to help the environment.
Earth911 is a website whose, "vision and mission are simple – create a community that helps consumers find their own shade of green, match their values to their purchase behavior, adopt environmentally sound practices and drive impactful environmental changes. We are here to deliver a mix of targeted content, eco-conscious products and environmental actions so that you can live a happier, healthier, sustainable lifestyle; one that protects this wonderful planet we all call home."
"Although they are made up mostly of paper, books are difficult to recycle because of the adhesives used to bind them. Still, you can find recyclers in your area or programs that will recycle or reuse your old books.
If you think your books are in decent condition you should consider reselling your book or donating it to a charitable organization. There are many charities that will take your used books, especially textbooks, and give them to those who cannot afford them."
Can hardcover books be recycled?
"Yes. Before placing a hardcover book in your recycling bin check with your city to make sure they accept them. Some municipalities request that spines of hardcover books be removed prior to being deposited for recycling due to their stiff composition and the glue that holds them together. Instructables has a great tutorial on how to remove a hardcover book cover."


Where's the best place to donate books?
"Various charities, media resale stores and businesses accept books and magazines for donation. Some may even pay out a small sum to purchase your gently used books. Check for local donation and recycling options."


What do libraries and schools do with old books?
"Many libraries and schools hold semi-annual book sales to clear out old inventory. Some factor old books into mixed paper recycling plans for the year. Still, both K-12 schools and higher education institutions struggle to process the millions of textbooks that become damaged or outdated every year, according to a report from the National Wildlife Federation."


(Via Earth911)
How Can I Recycle My Old Books?
"One of the questions we receive at RecyclingCenters.org is "How do I recycle my old books?". We've compiled a list below of ways you can do recycle books and help out those who don't have access to books or resources to obtain them."


Call Your Local Library
"One great way to get rid of all of those old books you've already read or used in school and are done with now is to donate them to your local library. Most libraries will be glad to accept any books you would like to give."


Goodwill, Salvation Army, or Local Charities
"Don't forget Goodwill, The Salvation Army, or one of the charities in your local area. A good resource to find charity centers in your area is:"
Books For Africa
"A simple name for an organization with a simple mission. We collect, sort, ship, and distribute books to children in Africa. Our goal: to end the book famine in Africa. Books For Africa is the world's largest shipper of donated books to the African continent. Since 1988, Books For Africa has shipped over 20 million high-quality text and library books to 45 African countries. Millions more are needed. It costs $9,500 to send a sea container of books and computers to Africa. Your donation will enable Books For Africa to send even more books to children in Africa who are hungry to read, hungry to learn.
RecycleYourTextBooks.com
"It is our goal at Textbook Recycle to take your unwanted textbooks, in most cases, headed for the landfill, and get them back into circulation. These books are then put back into circulation through various channels that we have developed over the years. We recycle 100% of what we touch. Every book is reused or grounded into other paper products."

(Via RecyclingCenters.org)
If you feel better about donating your books, which we absolutely support, be sure to check out Better World Books. This company was, "founded in 2002 by three friends from the University of Notre Dame who started selling textbooks online to earn some money, and ended up forming a pioneering social enterprise — a business with a mission to promote literacy.
Their mission is simple: "We collect and sell books online to donate books and fund literacy initiatives worldwide."
(Via Better World Books)

Eco-Pots Made From Recycled Books
An additional way to recycle your books is to get creative and turn them into something fun. These Eco-Pots Made From Recycled Books are a great example of how you can revive your old books. 
"Reading books is fun, but after reading all those, they are tend to be discarded or place somewhere in house as junk. The new eco-way of utilizing books after it fruitful life is to make it as one of your eco-pots like a Honbachi, a bonsai pot in Japan. If you desired to have an eco-pot that is made from recycled books, but do not have the old books at home, you can simply purchase a kit that already includes a book Honbachi and a soil map. All you have to do is to place the soil I the book and plant your desired bonsai plant and viola you already have the eco-pot."


(Via igreenspot)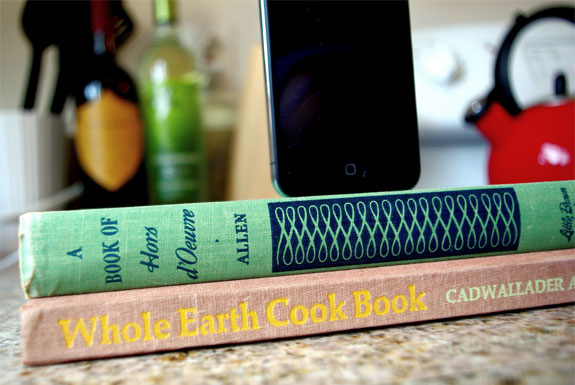 "Dusty books never sounded so good.
In a marketplace full of shinny, modern docks for MP3 players, California artist Rich Neeley went old school when designing his iPod product. Or, perhaps we should say back to school. Neeley's iPod chargers are all made from classic, discarded books.
His literary iPod-ification process starts by selecting books with care. Neeley makes sure each book he uses looks attractively used and yet is structurally sound. The insides of the chosen books are then hollowed out to conceal a charging cord. Finally, a standard Apple charging connector is stuck through the front cover. In the end, each iPod charger is such that it wouldn't look at all out of place on a library shelf.
So play sweeping music from your Gone With The Wind iPod charger. Direct death metal tunes from atop Dante's Inferno. Have Oscar Wilde inspire a wild dance party. Your English teacher would approve."


(Via Spot Cool Stuff)